The tool I use most often is CCleaner. This free application from Piriform is a system utility that is quite effective at cleaning up computers using the Windows operating system. The tool covers three areas:
CCleaner
CCleaner does just that. It finds and deletes unneeded files from your system. The Windows Disk Cleanup utility also does this, removing office setup files, temporary files and emptying the recycle bin, but it is incredibly slow. CCleaner is much faster and goes beyond the Windows untility by cleaning up memory dumps, Chkdsk file fragments, log files, DNS cache, various other caches, IIS log files, hotfix uninstallers and many others. Aside from cleaning system files, CCleaner also cleans out files from applications.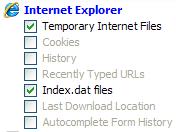 Each browser you have installed on your system has its own collection of temporary files that enhance the operation of the browser. These files can be removed without harming the browser's functions. Several non-browser applications are also included in the cleanup list. CCleaner allows the user to individually select the types of files to be removed so you can tailor your results. I often leave some boxes unchecked on browsers so I can hang on to some of my previous activities.
Registry
Selecting Registry allows CCleaner to scan the Windows registry for issues. Once found, you have the option to fix the issues en-mass or individually. One other option is to save the changes made to the registry. Do not consider this an option! Always backup any changes CCleaner makes to the registry. I've never needed any of the backups, but it is good to know they are there.
Tools
CCleaner also includes options for managing your startup programs, excluding cookies from deletion, uninstalling applications, excluding registry entries and specifying folders to be emptied.
Warnings
Always backup the registry changes.
While there is no spyware or malware embedded in CCleaner, do be careful during installation as you may wish to opt out of the Yahoo toolbar installation.